There is also an english version below.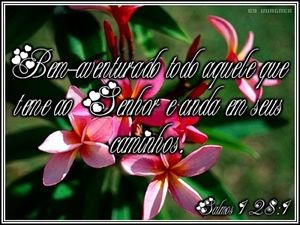 Blessed are all who fear the Lord; Who walks in His
ways. Psalm 128:1
Queridas(os) amigas(os),
Lembram que eu disse, que iria ao Brasil para ver o meu pai e queria encontra-lo em casa e em condições de falar comigo? Pois é, ele já está em casa e está passando bem. Claro, a saude dele está muito frágil, mas ele retornou a sua casa. Para quem estava na UTI, nas condições que ele estava... Isso só mostra como o nosso Deus é o Deus dos impossíveis. Eu o coloquei nas mãos de Deus, mas tinha pedido tambem para poder vê-lo pelo menos mais uma vez, em vida e em condições de conversar comigo. Deus conhece os desejos dos nossos corações, Ele sabe do que precisamos antes mesmo de pedirmos. o Papai passará para a vida eterna, no momento em que Deus decidir e certamente não será sozinho no leito de um hospital.
1 Celebrai com júbilo ao SENHOR, todas as terras.
2 Sirva ao SENHOR com alegria; e entrai diante dele com canto.
3 Sabei que o SENHOR é Deus; foi ele que nos fez, e näo nós a nós mesmos; somos povo seu e ovelhas do seu pasto.
4 Entrai pelas portas dele com gratidäo, e em seus átrios com louvor; louvai-o, e bendizei o seu nome.
5 Porque o SENHOR é bom, e eterna a sua misericórdia; e a sua verdade dura de geraçäo em geraçäo.
Obrigado por todas as suas preces, mas por favor não parem de orar.
Continuaremos a dar graças e louvar ao Senhor.
Que o Senhor abençôe voces abundantemente.

English Version
Dear friends,
Do you remember that I said: I am going to Brazil to see my father and I want to meet him at home and in conditions to talk with me. Well, he is already at home and doing well. His healt is is very fragile, but he is back home. The place where he loves to be. Do you remember? He was very, very ill in the Intesive care. This only shows once more, that our God is the God of the impossible. I placed my father in the God's hands, but I also asked if it's possible I would like to see him at least one more time, alive and in conditions to talk with me. God knows the desires of our hearts, He knows what we need before we asked for. Dady will pass to the eternal life, at the moment God decides it is time to go back to Him. But, certainly, it will not be alone in a bed of a hospital.
1 Shout for joy to the LORD, all the earth.
2 Worship the LORD with gladness; come before him with joyful songs.
3 Know that the LORD is God. It is he who made us, and we are his ; we are his people, the sheep of his pasture.
4 Enter his gates with thanksgiving and his courts with praise;give thanks to him and praise his name.
5 For the LORD is good and his love endures forever; his faithfulness continues through all generations.
Thank you all for your prayers. Please don't stop praying and praysing the Lord. Rejoice! Sing a new song for the Lord.
May God bless you all aboundantly.