There is also an english version below.
Jesus, my greatest friend.
Querida familia, amigos e visitantes,
Dear family, friends and visitors,

No dia 18 deste mes, estarei comemorando o meu aniversário.
....
to me!!!
Meio século de vida. Obrigado Senhor por ter me trazido até aqui e por continuar me guiando e iluminando os meus caminhos; obrigado pela vida, pelo Vosso amor e por tudo que me concedestes e ainda vai me conceder; que a vossa vontade seja a minha vontade e nunca me deixe desviar; que um dia eu possa habitar em Vossa casa para sempre.
(Leiam: Salmo 23, um dos meus favoritos).

Pois é, estarei comemorando o meu jubileum. Como tenho irmãs em Cristo que tambem comemoram o seu aniversário em Outubro, fizemos aqui em casa na quinta-feira (05/10), um almoço (fotos abaixo).
Yes, I will celebrate my jubileum. Last tuesday we had a potluck at my place (see fotos above), because two other sisters in Christ, Naldy and Antonetta also celebrate their birthday this month. Next week I and my family are going on vacation. We will spend our time in a bungalow park. There I will receive some friends. I will try to post some fotos here later.
No último sábado, estivemos na nossa reunião mensal do Aglow, link na coluna ao lado.
Last Saturday we have been to our mountly meeting at Aglow ( see link in the column beside). Below some pictures.
Elas dirigiram o louvour. They leaded the worship.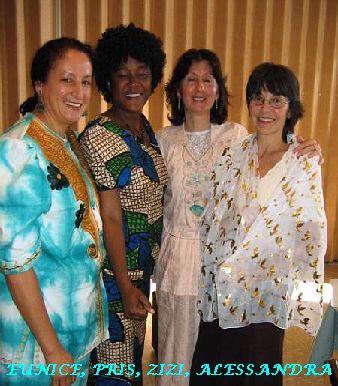 Aqui vestidas com traje africano para acompanhar a nossa querida irmã Priscillar. As roupas foram presentes dela.
Here we are dressed in african stile to join our dear sister Priscillar. The clothes were a gift from her.


Aqui uma mensagem extraída do "Nosso Pão Diário" (link na coluna ao lado), para a sua reflexão. Eu adicionei um pouquinho mais ao texto.

"MEÇA-ME"

Leitura:Efésios 4:11-16

E crescia Jesus em sabedoria,
e em estatura. - Lucas 2:52

"Pode medir-me a altura hoje?" - perguntou Caleb, o nosso distribuidor de jornais.
Não era a primeira vez que ele fazia tal pedido. Há uns anos eu dissera-lhe que ele estava a ficar crescido. Desde então, medimos com frequência a sua altura contra a parede da nossa casa. Passado todo este tempo, ele ainda queria que o medíssemos.
As medidas podem ser indicadoras de crescimento. E é uma boa ideia medir o nosso crescimento espiritual. Por exemplo: Será que passo tempo a ler a Palavra de Deus e a falar com Ele todos os dias? Será que procuro ter comunhão com o Senhor? Qual é o "fruto do Espírito" que é aparente na minha vida? Será que eu falo de Jesus às pessoas que não O conhecem? Como é que eu estou a usar o meu dom ou os meus dons espirituais? Tenho um espírito generoso e sou amigo de dar? Será que hoje conheço melhor Deus, do que há um ano atrás? Estas questões são boas indicadoras de crescimento espiritual.
Uma criança parece crescer de repente; porém o processo é contínuo. Assim como Jesus cresceu em sabedoria e estatura, nós, como crentes, temos que continuar "a crescer na graça e conhecimento do Nosso Senhor e Salvador Jesus Cristo" (II Pedro 3:18). Já não é suposto sermos mais crianças, mas sim "crescer em tudo n'Aquele que é a cabeça, Cristo" (Efésios 4:14-15).
Tens-te medido ultimamente?
CHK

A SALVAÇÃO É UM MILAGRE DE UM MOMENTO;
O CRESCIMENTO É O TRABALHO DE UMA VIDA.

Jesus disse do Espírito de verdade: "Mas, quando vier Aquele Espírito de Verdade, Ele vos guiará em toda a verdade; porque não falará de Si, mas dirá tudo o que tiver ouvido e vos anunciará o que há-de vir. Ele Me glorificará, porque há-de receber do que é Meu, e vo-lo há-de anunciar" (João 16:13-14).

Leia a Bíblia em um ano. É estimulante tentar antecipar o que iremos aprender da Bíblia todos os dias. À medida que lemos cada página, o Espírito Santo deseja mostrar-nos algo novo que vá ao encontro das nossas necessidades.
Esteja pronto para uma viajem de iluminação guiada ?

COM A PALAVRA DE DEUS COMO MAPA E O SEU ESPÍRITO
COMO BÚSSOLA, ESTARÁS SEMPRE NA ROTA CERTA.


Here a nice devotional extracted from Our Daily Bread (link in the column beside), for your reflexion. I added a little bit more to the text.

"MEASURE ME"

READ: Ephesians 4:11-16

Jesus increased in wisdom and stature. —Luke 2:52

"Can you measure me today?" Caleb, our paperboy, asked.
It was not the first time he had made that request. A few years ago I had mentioned to him how tall he was getting. Since then, we've often measured his height on the siding of our house. After all this time, he still wants me to measure him.
Measurements can be indicators of growth. And it's a good idea to measure our spiritual growth. For instance: Do I spend time reading God's Word and talking with Him each day? Do I look forward to fellowshiping with the Lord? What "fruit of the Spirit" is apparent in my life? Do I talk about Jesus with people who don't know Him? How am I using my spiritual gift or gifts? Do I have a generous and giving spirit? How much better do I know God today than I did a year ago? These questions are good indicators of spiritual growth.
A child seems to grow up all of a sudden, but it's actually a continual process. Just as Jesus grew in both wisdom and stature, we as believers are to continue to "grow in the grace and knowledge of our Lord and Savior Jesus Christ" (2 Peter 3:18). We are no longer to be children, but to "grow up in all things into Him who is the head—Christ" (Eph. 4:14-15). Have you measured yourself lately?
Cindy Hess Kasper

The child of God who reads the Word
And heeds the messages he's heard
Will grow in grace from day to day
And share with others on life's way.
Hess

-SALVATION IS THE MIRACLE OF A MOMENT; GROUWTH IS THE LABOR OF A LIFETIME.

Jesus said of the Spirit of truth: "He will guide you into all truth; for He will not speak on His own authority, but whatever He hears He will speak; and He will tell you things to come. He will glorify Me, for He will take of what is Mine and declare it to you" (John 16:13-14).

Read the Bible in one year: It's exciting to anticipate what we will learn from the Bible every day. As we read each page, the Holy Spirit longs to show us something new to meet our needs. Expect an enlightening guided tour.

-WITH GOD'S WORD AS YOUR MAP AND HIS SPIRIT AS YOUR COMPASS, YOU'RE SURE TO STAY ON COURSE.


Presentes que ganhei esta semana da minha amiga Neidemel.
I've got this gift and award from my friend Neidemel.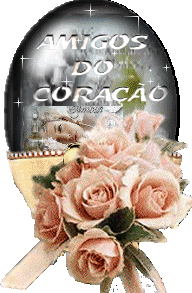 ---


Muito obrigado amiga. Gostei muito.
Thank you friend. It's beautiful.
Sou feliz com Jesus. I am happy with Jesus.
Visitem tambem o meu outro blog Family Tree
e conheça a minha familia.
I invite you to visit my other blog (click on "Family Tree" above). You will see all my relatives.