This message is written in English and Portuguese, see below.

Querida familia, amigos e irmãos em Cristo,
Lamento dizer que continuo sem tempo para blogar e fazer visitas, mas de uma coisa voces podem estar certo, sempre que possível visitarei voces tambem.
Obrigado pelo carinho e por continuar alimentando o meu
sêlo dourado do Blogstars
com o seu voto.
Estou muito bem, só que muito atarefada.
No último domingo tivemos um casamento na nossa igreja. Stefan e Joice se uniram em matrimônio perante Deus e a comunidade. PARABÉNS Stefan e Joice. Que Deus lhes abençôe com uma longa vida juntos, com muito alegria, amor, fé e felicidades. Aqui uma pequena montagem que fiz.
Mais fotos e um vídeo, voces poderão ver no blog da
Dy na Holanda
Vejam tambem a mensagem abaixo, OS PLANOS DE DEUS...
ENGLISH
Dear family and friends,
I am sorry to tell you that I still don't have lot of time to spent on internet (blogging), but I will visit all of you as soon as possible.
I am doing very well, I am just too busy.
Last sunday we had a wedding taking place at our Church: Stefan and Joice has been blessed as husband and wife.
CONGRATULATIONS Stefan and Joice. May the Lord bless you with a long life togheter, filled with joy, love, faith in Him and happiness.
Here some fotos. If you want to see more fotos and a video, go to

Dy na Holanda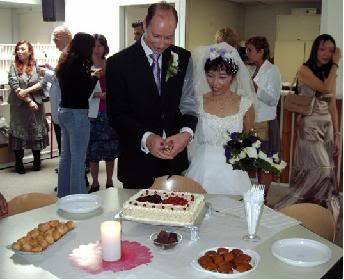 A congregação fez cinco bôlos. Este acima é apenas um deles (eu que fiz,ha,ha!)
The congregation baked five cakes. Above is just one of them.
I baked it, ha, ha!



GOD'S PLANS ...

By Roy Lessin

"For I know the plans I have for you," declares the Lord, "plans to prosper you and not to harm you, plans to give you hope and a future." Jeremiah 29:11 NIV
God has a plan for your life. He brought you into this world to fulfill that plan. It is the best plan that anyone could ever make for you. It is a plan that will bring Him the greatest glory and you the greatest good. From the beginning of this calendar year until its end, God is working out His plan.
As you follow God's plan for your life, you do so by faith. It is important to remember that He is the Guide and you are the follower. He does not need to bring you into His planning room as a consultant to help Him decide what is best for your life. God has called you to trust Him and to take the next step of obedience according to His will. God has said, "I will bring the blind by a way they did not know; I will lead them in paths they have not known. I will make darkness light before them, And crooked places straight. These things I will do for them, And not forsake them." Isaiah 42:16 NKJV
Here are some ways that God is working out His plan:

He is your Shepherd—He is leading you.He is your Provider—He is taking care of you.He is your Strength—He is enabling you.He is your Counselor—He is speaking to you.He is your Shield—He is protecting you.He is your Comfort—He is encouraging you.He is your Father—He is blessing you.My prayer for you: May God's plans be acomplished in the lives of everyone who read this message, in name of Jesus I pray, amém.

OS PLANOS DE DEUS...
(minha versão Para a mensagem acima de Roy Lessin)
Pois eu bem sei os planos que estou projetando para vós, diz o Senhor; planos de paz, e não de mal, para vos dar um futuro e uma esperança. Jeremias 29:11
Deus tem planos para a sua vida. Ele lhe trouxe neste mundo para cumprir o seu plano. É o melhor plano que alguem poderia fazer para voce. É um plano que O glorificará grandiosamente, mas que lhe abençoará tambem abundantemente do começo ao fim. Se voce seguir o plano dEle para a sua vida, com fé e não desviando dos seus caminhos.
É importante lembrar que Ele é o guia e voce o seguidor (a). Ele não precisa de voce como conselheiro para auxilia-Lo nos Seus planos; Ele decide o que é melhor para a sua vida. Deus lhe chamou para voce confiar nEle e dar o próximo passo em obediência e de acordo com a Sua vontade.
Deus disse:
E guiarei os cegos por um caminho que não conhecem; fá-los-ei caminhar por veredas que não têm conhecido; tornarei as trevas em luz perante eles, e aplanados os caminhos escabrosos. Estas coisas lhes farei; e não os desampararei. Isaias 42:16
Abaixo, alguns dos meios pelos quais Deus está cumprindo o Seu plano em sua vida.
Ele é o seu Pastor - Ele lhe guia.
Ele é o seu provedor - Ele cuida de voce.
Ele é a sua força - Ele lhe habilita.
Ele é o seu conselheiro - Ele fala com voce.
Ele é o seu abrigo - Ele te protege.
Ele é o seu conforto - Ele lhe encoraja.
Ele é o seu pai - Ele lhe abençoa.
Minha prece para você:
Que o plano de Deus se cumpra na vida de cada um de voces que passarem por aqui e ler esta mensagem, em nome de Jesus, amém.
God loves you.